ROBONOVA- ROBOT -- Humanoid Robot -- US$1,699.00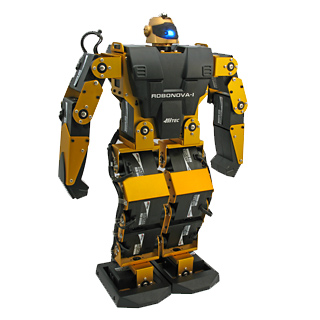 This exciting new humanoid robot by HiTec offers educators, students and robotic hobbyists a complete robot package. The stable ROBONOVA-I can walk, run, do flips, cartwheels, dance moves and once programmed, is ready to compete in any Robo One Class "J" competition. This "ready to walk" version of the robot comes pre-assembled. The package includes:

Fully assembled Robonova-I with 16 Programmable High Perfomance HSR-8498HB Digital Robot Servos
IR Controller for "Real Time" Control
RoboBasic Software(Included in CD) for Easy Real Time Control
Detailed Manual and Information Packed CD-ROM
Carrying Case
Serial Interface Cable(For PC Program Interface)
SMPS Quick Charger and 1000mA NiMh Battery (6V)
ROBONOVA-RED-BRACKET -- Red Bracket -- US$169.00
ROBONOVA-BLUE-BRACKET -- Blue Bracket -- US$169.00
ROBONOVA-SILVER-BRACKET -- Silver Bracket -- US$169.00
Change the color of your Robonova-I to red, blue or silver with this bracket set. This bracket set contains 35 red or blue or silver bracket parts to individualize your Robonova-I.
SERVO- HSR8498HB -- HSR8498HB Digital Servo-- US$89.00
This digital servo motor creates the foundation driving component of the Robonova robot . It is well suited for a wide range of robotics applications. The motor is reconfigurable with different shell combinations with the included accessories.

The servo motor comes with a selection of accessories that allow the motor to be custom configured for your application. Out of the box, the motor is configured with an idler shaft. The horn spline is 24 segments at 5.76 degree pitch. The internal drive train consists of Karbonite gears with dual ball bearings. Angular rotation is 180 degrees. Here is the specification.
GYRO-HGR01 -- HiTec Gyro -- US$89.00
This is HiTec's HG-R01 Robot Gyro.

Rapid, accurate detection and response system.
Light weight(7 grams) and compact size
Red and green LED indicator
Dimension: 26.0x27.0x11.3mm (1.02X1.06X0.44in.)
Weight: 7.0 g (0.285 oz) with plastic Case
Operating voltage: 4.8-6.0 Volts
Current drain: 10mA (4.8V)
Gain Adjustment: Single rate, On-remote
J Type Connector (130mm), double site tapes included
SENSOR-HiTec-DISTANCE-SENSOR -- HiTec Distance Sensor-- US$29.00
HiTec's IR Distance Sensor detects objects up to 15cm.

Maximum Detection Range of 15cm
Operating voltage: 5 Volts
Dimension: 12.9mm x 25.4mm
Weight: 7g
Wire length : 318mm

The sensor output is logic high when an object falls within the detection range. When no object is inside the detection range, a logic low is output.
SENSOR-HiTec-SOUND-SENSOR -- HiTec Sound Sensor-- US$29.00
This HiTec sensor detects sound.

Operating Sound : more than 80dB
Operating voltage : 5V
Dimension: 13.0mm x 29.0mm
Weight: 7.1g
Wire length : 320mm
SENSOR-HiTec-TOUCH-SENSOR -- HiTec Touch Sensor-- US$29.00
This HiTec sensor detects human touch.

Operating voltage : 5V
Dimension: 12.9mm x 29.0mm (based on PCB size)
Weight: 7.5g
Wire length : 318mm
SENSOR-HiTec-LIGHT-SENSOR -- HiTec Light Sensor-- US$29.00
This HiTec sensor detects light.

Operating illuminance : more than 80Lux
Operating voltage : 5V
Dimension: 12.9mm x 14.6mm
Weight: 5.8g
Wire length : 322mm
HiTech- MR-C3000E -- 32 Servos Controller Board -- US$428.00
This is HiTec's MR-C3000 controller that is part of their Robonova line. This controller is capable of controlling 32 joints simultaneously. The MR-C3000 is perfect for use with biped robots, and other types of multi-jointed robots.

Latest ATmega 128 MPU from ATMEL
UART(Simultaneous control of 32 servo motors) capable
High speed serial communication
40 I/O ports, 3 PWM signal ports, / 8Ch A/D conversion feature - Serial control (VB,VC++)
LCD module control
6 octave piezo for sound and music
Ultrasonic sensor control
IR remote control command reception
Up to 32KB internal flash memory
Requires ROBOBASIC v2.0 or above
Data download using (optional) serial I/F cable
HiTech- MR-C3024E --24 Servos Controller Board -- US$379.00
HiTec's 24 Servo Controller Board.

ATMEL ATMEGA 128 microcontroller
On-board memory: 64KB flash type
Maximum connectable servos: 24
HMI (HITEC Multi - protocol interface)
Servo parameter setting function
Digital I/O port: 40
Optional "LCD indicatory unit"
PWM output 3CH
A/D conversion port: 8
Piezoelectric buzzer equipment
Ultrasonic sensor
optional IR remote control kit
High-speed serial communication (UART) system
supports ROBOBASIC/ ROBOSCRIPT/ ROBOREMOCON
firmware upgradeable
HiTech- RF Receiver-- 27MHz FM receiver -- US$59.00
This is HiTec's HFS-RU01 Universal Asynchronous Reciver and Transmitter (UART).

The HFS-RU01 is a wireless means to send serial commands to a Robonova or MR-C3024 using an 4-channel FM transmitter.

Usage Notes:

Various movement combinations of the left and right sticks transmit Robonova codes through the single wire UART connector. The HFS-RU01 is designed to plug into either the ETX port or alternatively the radio port. The FM transmitter must be turned on with the sticks centered before applying power to the HFS-RU01.