Makeblock is a fast growing robot constuction platform based on aluminum extrusion materials.We provide an integrated platform including many mechanical parts and electronic modules, all the mechanical parts are convenient to connect to each other. the electronic modules are easy to use, also it's conveinent to attach on the mechanical parts. They aresuitable for STEM (Science, Technology, Engineering and Mathematics) and STEAM (Science, Technology, Engineering, Art and Mathematics) educations.

We will concentrate on developping new parts and modules, to make this platform cover more and more functions. We are willing to cooperate with distributors around the world, to bring you customer this innovative construction platform, to help turn their ideas into success.

We do carry ALL Makeblock parts, but we only list some of popular ones.

Please contact us if you cannot find them here. We guarantee our price is the lowest among the distributors.
MAKEBLOCK - mBot V1.1 (Bluetooth) -- US$90.00
MAKEBLOCK - mBot V1.1 (2.4G) -- US$93.00
mBot is an all-in-one solution to enjoy the hands-on experience of programming, electronics, and robotics. Working with mBlock inspired by Scratch 2.0, connecting with computers or smart devices via Bluetooth or 2.4G (by different version), this easy-to-assemble mBot provides infinite possibilities for you to learn STEM (Science, Technology, Engineering, Mathematics). The robot is based on Audrino. Here are the technical details.
MAKEBLOCK - mRanger -- US$179.00

mBot Ranger Robot Kit is a three-in-one STEM educational robot kit which supports 3 building forms: robot tank, three-wheeled racing car, and a self-balance car. Program & Control mBot Ranger via iPad, tablets, or laptop to start your exploration The robot is based on Audrino. Here are the technical details.
MAKEBLOCK - Ultimate 2.0 -- The 10-in-1 STEM Education Robot Kit -- US$339.00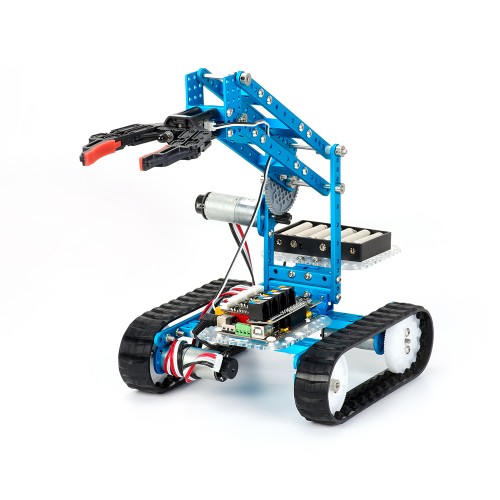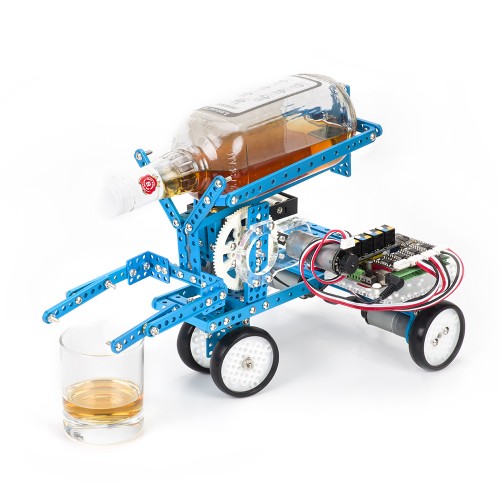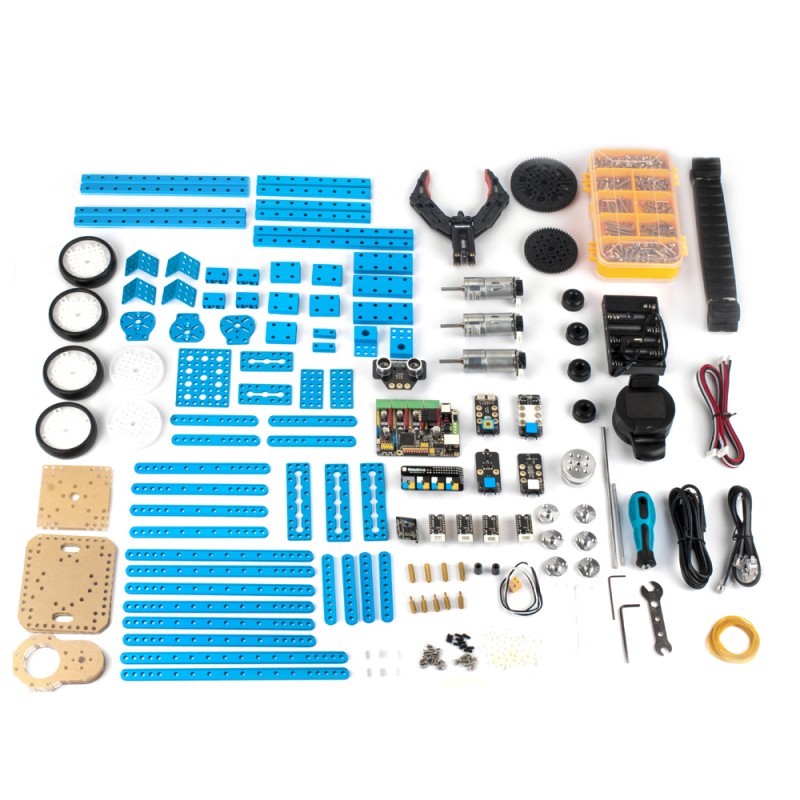 Ultimate 2.0 comes packed with a punch. The kit comes with assembly guides for 10 different designs that serve as launch points for your own creations. Alter the designs to suit your own ideas, or make your own design entirely from Scratch!Ultimate 2.0 is a flagship robot kit based on Makeblock platform with rich features and strong compatibility. Whether you are an enthusiast of Raspberry Pi or Arduino, a mechanical or electronics engineer, a teacher, or a student, it helps you learn the knowledge of mechanical structures, electronic modules and programming skill with ease. Here are the technical details.
MAKEBLOCK - mGiraffe 3D Printer COMBO set (with 3 packs of PLA 1.75mm filament) -- US$688.00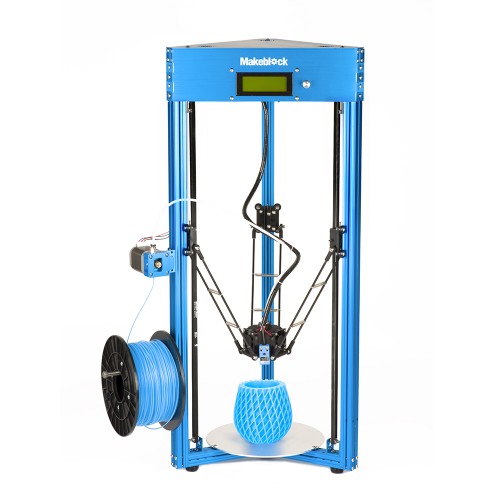 mGiraffe is a new type of delta 3D printer DIY kit based on Makeblock platform. Consisting of an open hexagon linkage structure and powerful electronic control system, mGiraffe is devoted to bring you extraordinary 3D printing experience. Assembled instructions include. Here are the technical details.

MAKEBLOCK - XY-Plotter Kit (without Laser Engraver) -- US$289.00
MAKEBLOCK-XY-Plotter Kit (with Laser Engraver) -- US$389.00
Stronger structure, super easy stepper motor driver and laser-head compatible -- Makeblock XY-Plotter 2.0 is a fully updated version of XY-plotter. With the Processing and GRemote, the XY-Plotter 2.0 is a drawing robot basiclly, you can draw amazing pictures with Gcode.

Since we reinforce the structure, the XY-plotter 2.0 is stronger enough to be conversed to MiniCNC, 3D printer, driller, laser cutting machine, etc. And the movement of the terminal is stable and precise since the improved dual-way transmission mechanism.

Here is the detailed descriptions
MAKEBLOCK - Mecanum Wheel Robot Kit with Orion and Handle -- US$719.00
Mecanum Wheel Robot Kit is a type of mobile chassis robot based on Makeblock open source hardware. The chassis of this kit consists of mecanum wheel, encoder motor driver, mechanical structure and other electronic modules (e.g. main controller). This robot kit is for projects that move in narrow space or projects that need to move in all directions. This mecanum wheel chassis is a two-in-one base which allows you to build into two different sizes (360 x 386 x 100mm and 496 x 512 x 100m) with the load 10kg to 40kg. Here are the technical details.