HB-IC-HANDYBOT-DB9/HB-IC-HANDYBOT-DB25/HB-IC-HANDYBOT-DIN5 (Mac) ........US$299.00
HB-IC-HANDYBOT-USB ........US$315.00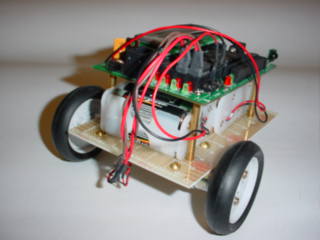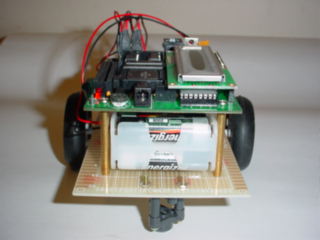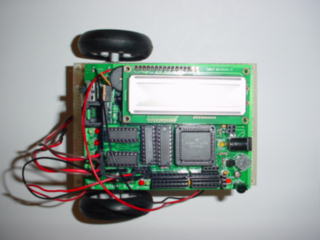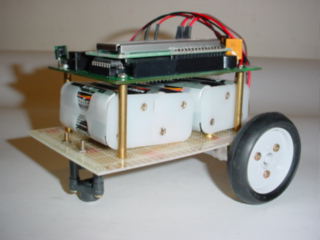 HandyBotT is a complete mobile robot exploration system using a well-known MIT Handyboard
system as its brain. It has two high quality planetary gear-head motors (manufactured by
Swiss ) and a caster for locomotion. It is suitable for students, professionals, and hobbyists mobile robot experiments or projects.

The MIT Handyboard is placed on top of large PCB fabric ( 91mm x 140mm ) platform for easy mounting of various sensors. This ensures the platform has the best performance to meet your specific requirements. Ready to run by just inserting batteries (excluded) into it.

Here is the HandyBot on action.... handybotM1.mpeg (MPEG movie format). You can use Windows Media Player to play the movie.


HandyBotT Technical Specifications:
Platform size (with Handyboard system): 91mm (W) x 140mm (L) x 120mm (H) PCB fabric for easy mounting of sensors
Wheels diameter: 56mm
Front wheel: free rolling caster (360 degree rotation).
Driven system: Differential drive
Motors: 2 DC 6v-9v High quality (Swiss Made) metal planetary gear-head motors
Handyboard power supply: DC 10v-15v (8 pcs x AA size battery for long running time). Alkaline or rechargeable battery.
Motor power supply : Shared with Handyboard power supply.

HandyBotT Parts List:
MIT Handyboard system ( HB-A-IC-DB9 for PC or DB25 for PC or DIN5 for MAC ) 1pc
Serial interface board 1pc
DB9 (for PC DB9 serial port) or DB25 (for PC DB25 serial port) or DIN5 (for mac)serial cable 1pc
HB-ANDYBOT-USB has USB interface
RJ11 cable 1pc Handyboard Expansion Board ( optional ) 1pc
Interactive-C (software and Interactive-C manual) 1pc
Handyboard manual disk 1pc
HandyBotT Example Source Code disk 1pc
HandyBot T with 2 motors and wheels 1pc
8 pcs x AA size battery holder 1pc
6 pcs x AA size battery holder 1pc
Bumper (Microswitch) 6 pcs
Photo-resistor (CDS) 4 pcs Beam-breaker with datasheet 2 pcs
IR transmitter LED 2 pcs IR receiver LED 2 pcs
Battery is NOT included.

SN754410 motor drivers*
*NOTE: All our Handyboard now comes with 4 High Current (1.1Amp) Bi-Directional Motor driver chip.

The HandyBotT is suitable for robotic exploration for experiments in school or research. You can use HandyBotT as a start-up for your projects. Interactive-C source code examples are provided for quick-start up. The package comes with all hardware, software, and sensors for experiments.

For a reference, here is a HandyBotT manual in PDF format.