HB-COMBO-DB9/HB-COMBO-DB25/HB-COMBO-Mac ........US$229.00
HB-COMBO-USB ........US$245.00
Assembled and Tested MIT Handyboard Complete Set (Ready-to-Run) with HB Expansion Board and Freeware Interactive-C 2.81x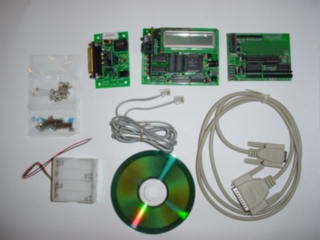 MIT Handyboard ( latest version is v1.2.1 ) and Serial/Battery charger boards with ALL components soldered.
All components on both boards (MC68HC11A 1,

SN754410 motor drivers*

, IR demodulator...etc.)
Assembled and Tested MIT Handyboard Expansion Board (with software library)
16x2 LCD display (STN Type)
RJ11 modular cable for connecting Serial/Charger board to Handyboard main board
DB9 or DB25 or DIN5 serial downloading cable (please specify). This is to connect your Serial/Charger board to PC serial port (either DB9 or DB25 or DIN5) . For example: Your mouse may connect to DB9 of your PC serial port.
HB-COMBO-USB has USB interface.
Interactive-C software on CD.
FREE IC Version is released . Get it from http://www.kipr.org/ic/download/ . Development work was sponsored by the KISS Institute For Practical Robotics, a non-profit educational organization. IC Version 5 is free to use.IC library is assumed to be used with HB Expansion board .
Battery holder (8 x 1.5V AA)
Handyboard Technical Reference Manual and datasheet in Acrobat format on CD (with Interactive-C manual) (75-page)
Assembled and Tested, Ready-to-Run by just providing any 8 pcs of AA size batteries (Alkaline, NiCd rechargable, or NiMh rechargable battery) to the provided battery holder or using any DC adpaters available in your local electronic appliances stores (>12V 500mA)
.
Nuts and screws, spaces, and 2 photo-resistor sensors for the experiment.
Educational Discount available
Optional Handyboard underneath-the-board battery case , NiCad rechargeable batteries, and DC adapters. You can order this optional accessories with the part number: HB-EXTRAS
*NOTE: All our Handyboard now comes with 4 High Current (1.1Amp) Bi-Directional Motor driver chip.
Educational Discount and Special COMBO Package Available
Note: By default, the kit doesn't include DC adapter, NiCd batteries, and plastic enclosure due to the shipping weight and different country electrical regulations. Here are the reasons of why . If you want to have these extra accessories, you can order HB-EXTRAS with this kit.